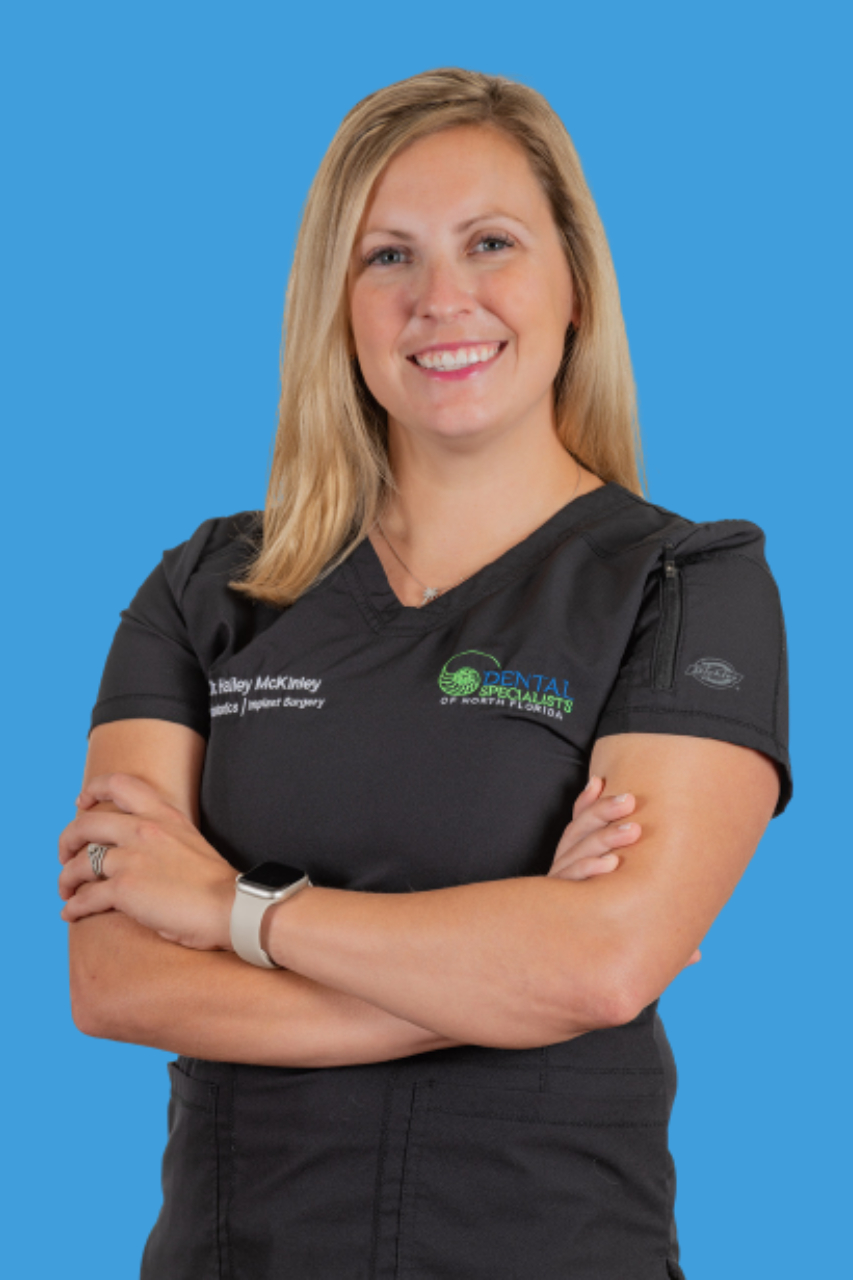 Dr. Hailey Wilson McKinley received her bachelor's degree in biology with a minor in chemistry and psychology from Indiana University in Bloomington. Similar to her parents and both grandfathers, she attended the Indiana University School of Dentistry. While in dental school, she developed an interest in Periodontics after receiving a soft tissue graft in her own mouth. She shadowed the periodontal residents throughout the four years of her dental school curriculum, and her interest in periodontics was confirmed. She quickly found that she enjoyed periodontal surgical procedures and oral pathology.
Upon graduation from dental school in 2018, Dr. McKinley matriculated into the Medical University of South Carolina in Charleston, SC (MUSC) for her periodontal residency. While there, she had the privilege of serving as Chief Resident in a program that is renowned for its focus on clinical exposure and case difficulty. The residency allowed her to expound upon the techniques that she began to develop in her dental school education. Through her extensive training, Dr. McKinley is now confident and proficient with immediate implants, implants in the esthetic zone, ridge and sinus augmentations, soft tissue grafting, traditional and laser periodontal surgery, periodontal regeneration, and IV sedation. Dr. McKinley earned her Master of Science in Dentistry and Periodontics in 2021 after defending her thesis on lateral periodontal cysts at the MUSC Oral Pathology Laboratory.
MUSC is where she had the distinct honor of meeting Dr. Michael Romani. Dr. Romani introduced Dr. McKinley to Drs. Bob and John Thousand and the amazing team they have created at Dental Specialists of North Florida. She was very excited to receive the opportunity of joining the practice. Dr. McKinley says she looks forward to treating patients in an honest, respectful, and professional manner while providing exceptional surgical results.
Dr. McKinley is a diplomate of the American Board of Periodontology while maintaining her status as Clinical Associate Professor at MUSC. In her free time, she enjoys spending time with her husband and daughter, running, painting, baking, going to the beach, playing pickleball, and trying new restaurants.
Planning to get dental implants? Or already have them? Got any queries about the procedure or the life with implants? This patient-focused book offers accurate, relevant information on dental implants -everything that a patient needs to understand. It covers topics like the fundamental biology of implants, the difficulties and risks involved, as well as the realities of living with dental implants. The objective of the book is to give patients the knowledge and tools they need to make an informed decision before opting for the implant procedure. To purchase a copy of your book, click Implants Done Right: Your Guide to a Healthy Smile, or call our dental office at (904) 794-1000 or (386) 986-1000.