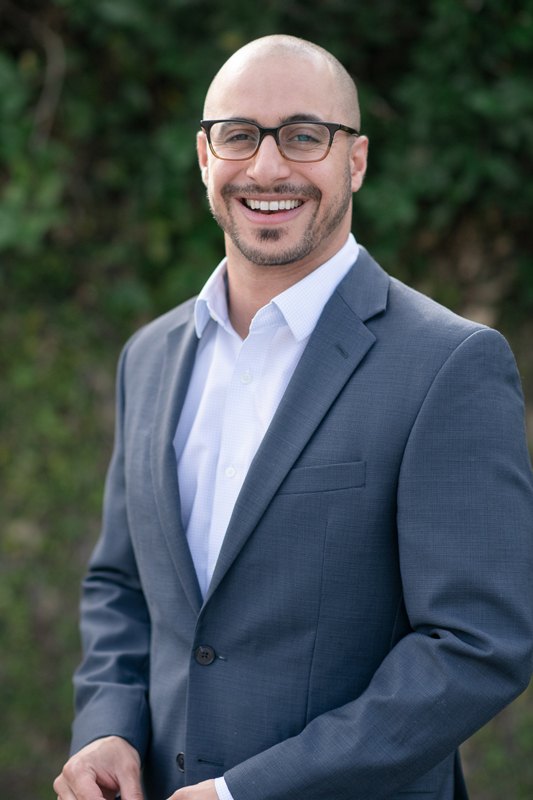 Dr. Michael Romani received his bachelor's degree in human biology with a minor in chemistry from California State University in Fresno. Upon graduation, he was admitted to the Anschutz Medical Campus, School of Dental Medicine, to begin his graduate dental degree. Early in his dental education, Dr. Romani and Dr. Thousand became great friends and worked on several research projects together, including topics that covered the effects of bone grafting on sinus pneumatization and techniques to reduce retained cement around implant-supported prostheses. Dr. Romani accelerated throughout his dental education, quickly showed an interest in surgical dentistry, and committed to pursuing a career in periodontics.
Dr. Romani attended his three-year post-graduate training at the Medical University of South Carolina in Charleston. During his residency, he received extensive training in IV sedation, surgical extractions, complex implant placement, regenerative surgical dentistry, including bone, sinus, and soft tissue grafting, and the prevention and treatment of advanced periodontal disease. He served as the chief resident during his last year and completed research in the MUSC Pathology Laboratory on gingival cysts of the adult. During his three-year program, Dr. Romani volunteered at the East Cooper Community Outreach clinic weekly, where he provided free dental care to the underserved community of Charleston, South Carolina.
After successful completion of his master's residency in periodontics, Dr. Romani joined Dr. Thousand's practice in St. Augustine and Palm Coast, Florida. He is passionate about periodontics and strives to be a leader in the field of surgical dentistry. Dr. Romani will work closely with your restorative dentist to ensure total comprehensive dental health.
Dr. Romani is a diplomate of the American Board of Periodontology and an associate dental surgeon at Flagler Hospital in St. Augustine. He will also serve as an adjunct clinical professor in the Department of Stomatology at the Medical University of South Carolina. During his free time, Dr. Romani enjoys live music, traveling, surfing, kayaking, skiing, and fishing.
Professional Affiliations
American Academy of Periodontology
Southern Academy of Periodontology
American Dental Association
Florida Association of Periodontists
Academy of Osseointegration
Delta Sigma Delta Fraternity
Planning to get dental implants? Or already have them? Got any queries about the procedure or the life with implants? This patient-focused book offers accurate, relevant information on dental implants -everything that a patient needs to understand. It covers topics like the fundamental biology of implants, the difficulties and risks involved, as well as the realities of living with dental implants. The objective of the book is to give patients the knowledge and tools they need to make an informed decision before opting for the implant procedure. To purchase a copy of your book, click Implants Done Right: Your Guide to a Healthy Smile, or call our dental office at (904) 794-1000 or (386) 986-1000.