Microneedling, also known as collagen induction therapy, is a minimally invasive treatment that can improve the skin's appearance by stimulating the production of new skin cells and collagen for a smoother, more vibrant complexion. At Dental Specialists of North Florida, the treatment is suitable for all skin types. It can treat a variety of skin concerns, including discoloration, aging skin, acne scars, fine lines, wrinkles, and stretch marks.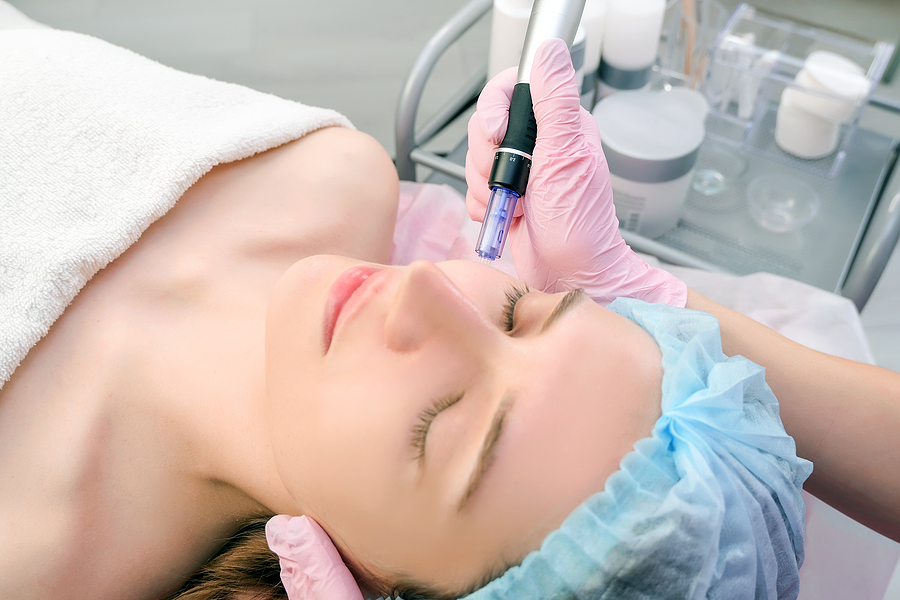 The Procedure for Microneedling with PRF Treatment
Your skin will be numbed with a topical anesthetic during your treatment to ensure comfort. Then, our dentist will gently use a pen-like device to gently create tiny holes in the skin's surface. These micro-injuries trigger the body's natural healing process and generate new collagen and skin tissue. A topical serum infused with platelet-rich fibrin is then applied to the treated area to promote healing and rejuvenate the complexion. Results will appear gradually in the weeks following your procedure. Most patients require three to five treatments spaced six to eight weeks apart for optimal results.
The Benefits of Microneedling with PRF
The benefits of platelet-rich fibrin, or PRF, are numerous. It has been proven to speed up healing and reduce swelling, bleeding, and bruising. Microneedling also stimulates your body's natural healing process to release growth factors that promote tissue regeneration. Together, these two treatments offer patients optimal cosmetic enhancement results with minimal downtime. Patients typically notice immediate effects with microneedling alone. To maximize the benefits of both procedures, we recommend scheduling your treatment sessions at least four weeks apart to allow time for your skin to heal sufficiently in between.
Is Microneedling with PRF Right for Me?
If your skin has hyperpigmentation, fine lines, wrinkles, acne scars, or stretch marks, the microneedling with platelet-rich fibrin treatment may be right for you. Microneedling with platelet-rich fibrin promotes collagen and elastin production, improving the appearance of skin issues, including aging skin and acne scarring. Platelet-rich fibrin treats patients not interested in other treatments, such as laser therapy, because it causes fewer side effects. The platelets in PRP contain growth factors that aid in the healing process of damaged tissues. For example, it improves the look of the skin by stimulating new collagen production. It increases the thickness of the epidermis as well. All of these lead to a healthier and more vibrant appearance in the skin!
To find out if microneedling with PRF is right for you, visit Dental Specialists of North Florida at 10 Saint Johns Medical Park Drive, Suite C, Saint Augustine, FL 32086, or 3 Cypress Branch Way # 107, Palm Coast, FL 32164. Call (904) 794-1000 or (386) 986-1000, or stop by your nearest location to schedule a consultation with one of our experienced dentists today!